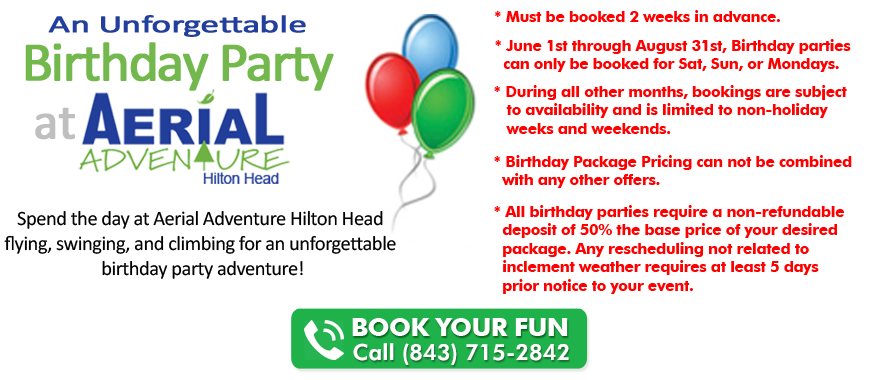 Birthday Parties:
Spend the day at Aerial Adventure Hilton Head flying, swinging, and climbing for an unforgettable birthday party adventure! When you book your birthday with us you'll receive 1 hour on our Aerial Adventure course tackling up to 6 different courses on 3 levels of difficulty with over 50 different obstacles*! You'll also receive pre-adventure ground training, souvenir bands, and 50% off coupons* for all participants. The birthday celebrant will also receive a gift bag and a t-shirt ($16.98 value).
Make your next birthday celebration one to remember with Aerial Adventure Hilton Head! We'll see you in the trees!
$250 + tax base price for up to 10 participants.
Optional Add-ons:
Add adventurers to the original package for $25 + tax per each additional participant
Add on an extra hour on Aerial Adventure for $15 + tax per participant
Join us for a meal next door at Up the Creek Pub and Grill

$11.50 + tax per person. Includes a meal off the Kid's Menu, drink, dessert and gratuity.
*Age restrictions may apply, please see participation requirements listed below.
*Cannot be combined with any other offers
Contact us for more information or to book your party today!
---
Participation Requirements
BEFORE you book, please review the following requirements:
Everyone must sign the Participation Agreement upon arrival.
Participants must NOT be pregnant.
Participants must NOT be under the influence of ANY drugs or alcohol.
Everyone must meet age, height and weight requirements to participate on the different challenge courses, according to their level of difficulty. Everyone must be of sound body and mind capable of performing specific safety tasks independently. Please review the age matrix for our courses in the FAQs.
If your medical care provider has instructed you to wear a cast or splint as a result of a recent injury or surgery, we must exercise particular caution for your safety. If you arrive in a cast, you will not be eligible for participation or refund upon your arrival. If you wear a preventative brace from an old or pre-existing condition, your medical provider must clear you for participation in outdoor activities such as ours and the brace cannot come between you and your safety gear.
ALL climbers must be at least 42" tall to participate on the Aerial Adventure challenge course.
ALL climbers must be at least 48" tall to participate on any course without an adult escort to assist them.
Any climber under 48" tall will fail to complete many aspects of the course without an adult escort, and participants should reserve accordingly. Additional height requirements may be applicable for participation on advanced courses, which is at the facilitating rangers' discretion.
Participation on the Intermediate 'Blue' Courses requires the climbers or their adult escorts to be able to reach at least 6'5" high to successfully traverse the courses.
Participation on the Advanced 'Black' Courses requires the climbers or their adult escorts to be able to reach at least 6'4" high to successfully traverse the courses.
The weight restriction is a maximum of 265 pounds.
All participants must be able to use arms and legs to traverse active components of the course.
BEFORE you arrive, please review the following requirements:
Participants are required to arrive 30 minutes prior to their adventure start time.
Participants should wear well-fitting clothing that does not allow anything to hang loose or get tangled in the cables and rope. Bathing suits, scarves, skirts and dresses are not permitted.
Lace up sneakers or hiking shoes are REQUIRED. Shoes must have a rubber athletic sole, cover the top of the foot and have a fitted heel.

o Flip-flops, water shoes, sandals, Tom's Shoes, Sperrys, Loafers, Crocs, Keens, Tevas and Clogs, Slip-ons, shoes with leather soles, and Toe-Shoes or Five-Finger shoes are not appropriate and will not be allowed.

Aerial Adventure Hilton Head reserves the right to make decisions about appropriate footwear at the time of the adventure.
Please review these Requirements regarding your participation:
All participants must read and understand all instructions.
All participants must get specific training in using all safety and permanently installed equipment on the ropes courses.
All participants must understand and accept the risks involved.
All participants must disclose ALL relevant medical information to your Rangers and during your booking. This includes but is not limited to: recent surgeries, sprains, strains, pulls, broken bones, stitches, and any condition requiring medication - such as allergies, asthma, heart conditions, diabetes, etc.
If you or a member of your party is mentally or physically handicapped, this must also be conveyed to your Rangers. This includes disclosing ANY spectrum disorder. Please bear in mind that although lifestyles may not be altered by these concerns, we will ultimately have to alter operation of our adventures to accommodate those with needs exceeding a typical client's.
Understand that any signing guardian for any participant under the age of 18 is responsible for that participant throughout the duration of their adventure.
Timeslots and tickets are reserved only for the individual signing the participation agreement as a participant: tickets are non-transferable after the start time of the adventure, and any participants who come off the adventure course and have gotten out of the gear due to fear or exhaustion or discipline are not eligible to restart their adventure, nor transfer the remaining time to another member of their party.
Upon arrival, and while Traversing or Observing Zipline Canopy Tour or Aerial Adventure Course you must follow these requirements:
All participants must use all equipment safely and as directed.
Participants MUST start with the course required by age: Participants 13 and under MUST successfully complete a green course before starting a blue course. A blue course must be successfully completed before starting any black course.
Do not carry phones, cameras, or any other objects that may fall or distract you or others. This includes removing ALL items from your pockets as many course elements are built above one another.
Cameras with a wrist strap that can be attached to your harness are permitted at your own risk, as are GoPro style mounted cameras - please bring your mounting hardware or straps.
Please understand that the nature of the Aerial Adventure increases the likelihood of damage to your device more than the ZipLine canopy tour.
Jewelry, watches, FitBits and bracelets are not recommended unless they cannot slip off or their hasps cannot come undone while in use during vigorous activity.
Do not smoke anywhere in the park, we are a Non-Smoking Facility.
Carry out all objects that you bring into the park, including all trash.
All participants must obey any and all instructions given by Rangers.
During unusual weather conditions, you may be asked to evacuate the Park. (i.e. thunderstorms)
Facilities' Staff reserves the right to remove anyone from the Aerial Park who is unable or unwilling to perform all safety tasks independently, or who is in breach of the safety rules.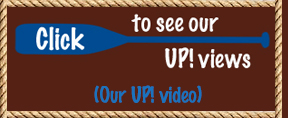 "Highly recommend this place especially for the views! Food, staff and views were great!!! Cant wait to go back!!!!!"
"Convenient stop before kayaking"
Read All Reviews
|
Write a Review
"What great suprise find!"